We have a collection of exquisite period vehicles available for use in Film and Television work.
www.actionvehicles.mayswood.co.uk
Each image below represents the vehicles we have on offer, starting with image one :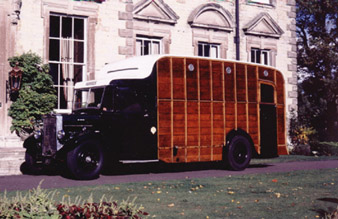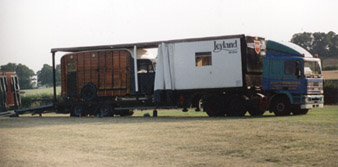 1938 Leyland Cub Horsebox
The Leyland Cub Horsebox, built for the Earl of Derby to carry his racehorses, is as perfect as it would have been when new. It was one of only a few horseboxes built on Leylands and is possibly the only survivor.
This vehicle has also been used as a hearse for a funeral, with style and dignity befitting the solemn occasion.
The vehicle can be transported anywhere in the UK or Europe in its own purpose-built trailer.
1965 Ford Thames 15cwt Van
Non-signwritten, and just dying to appear in a "Whatever Happened to the Likely Lads" remake…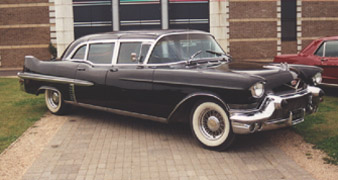 1957 Cadillac Limousine
One of 890 built, the last of the purpose-built 'Limos' (i.e. non stretched). Black paintwork with red velvet trim, and believed to be one of three in the UK.
One of its appearances was as the lead car in the Spice Girls' last video "Goodbye", where they all sat and sang in the back of the car.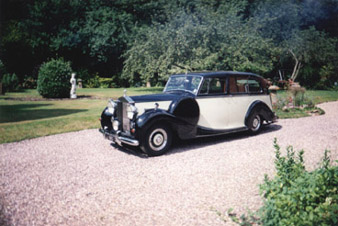 1950 Rolls Royce Silver Wraith
This stylish car is a limousine seating six behind a glass division and with a glass panel in the roof making it very light inside the back.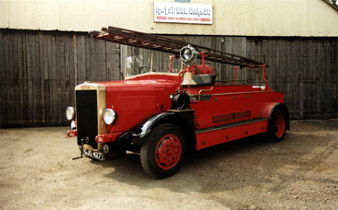 1938 Leyland Cub Fire Engine
This vehicle was built by Leyland and supplied to Press Steel Ltd. near Oxford. It was originally fitted with a wheeled escape (50′ ladder with large wheels) but it was replaced during service with a double-extending ladder which was more manageable and met the factory requirements. Since we acquired the vehicle, we have obtained a replacement wheeled escape and have successfully fitted it onto the appliance.
We also have a wide range of other vehicles, old or new, large or small and unusual:
1953 Dennis Fire Engine – complete original.
1954 Humber Armoured Personnel Carrier
1967 Rolls Royce Silver Shadow (white)
1972 Rolls Royce Silver Shadow LWB (silver)
1974 Corvette Stingray (silver)
1975 Daimler Limousine (grey)
1976 Triumph Stag – concours (blue)
1979 White (American) 6 x 4 Artic Tractor Unit
1988 Rolls Royce Silver Spur (red)
We have other various accident damaged and 'dead' vehicles, modern cars and vans, transporters, recovery vehicles, Land Rovers etc. and even locations for filming:
1920s Garage and Forecourt which is a transport/commercial garage.
1930s Rural semi-detached house, frontage original state, swimming pool etc. and open views to the rear.